What happened? We were rolling along good then it screeched to a halt. It's not that hot so we can't blame the heat. So what happened?
I have heard people say that the rain has kept folks from planting. I know that locally we have several landscapers that still have orders that they have not picked up yet due to being behind because of the rain. I talked to a garden center owner yesterday and he said that business had dropped a lot over the past week or two and that it was very slow.
How are things going for you? Every week Chris Beytes' Acres Online Newsletter rates the weekend sales by state. You can see last weekend's ratings in the image. As you can see, some parts of the south are starting to slow down some but solid 7-10 ratings all around Arkansas is good news. I hope that everyone is doing as well as these ratings indicate. Although I am not sure why there are no reports from Arkansas. You can subscribe to the Acres Online Newsletter here – http://www.ballpublishing.com/BPSubscriptions/newslettersignup.aspx.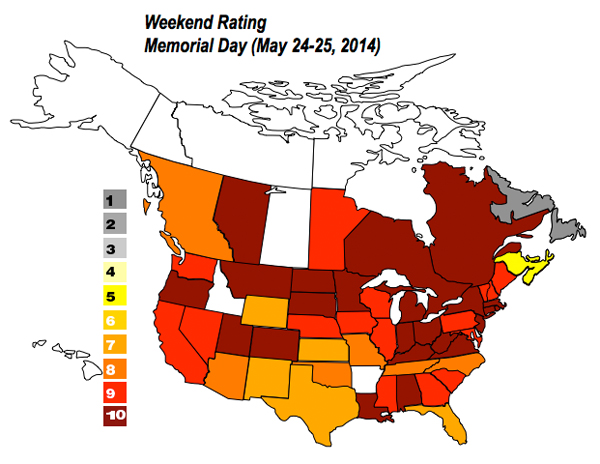 I think that the garden centers are playing it safe and are either selling down and calling it over or are getting some small shipments to just keep a little bit on their shelves.
We had a good year here with the least amount of waste than we have had in a long time. Reducing shrink was one of our goals for this spring and we exceeded our goal with that. Sales were great for the most part for spring. We had extra product when we didn't need it at times and didn't have product that was in demand at times but we will never be able to be 100 percent accurate with our forecasting.
Again, I want to thank all of you who helped us have a great spring and we hope that you had an outstanding spring as well. I also want to apologize again for the trucking/shipping issues we encountered and want to assure you that we are working diligently now to try to make sure that we don't have that happen again.
One other thing, what is the deal with the hanging baskets? No matter what we do, we sell out nearly every planting within a day or two of adding them to the availability. Don't get me wrong. I am not complaining about them selling so well. I am curious as to why they are selling so well. If you have any insight as to why that is, I sure would like to know. So far my thoughts are simply that consumers are buying more baskets.
Enough of that. Here are this week's pictures. Hope you all have a great weekend!